"It put in one place all the key things we need to know about writing"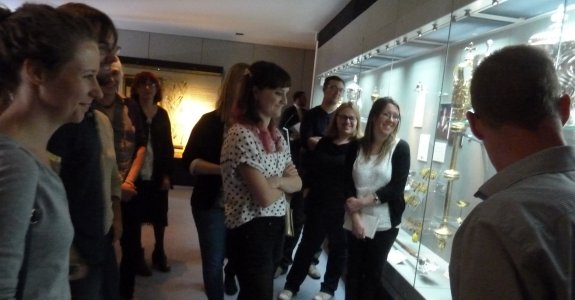 It's hard not to wince as you explore the collections of the Royal College of Physicians. From a leech jar to a set of pre-anaesthesia surgical tools in a velvet-lined case, Collections Officer Peter Basham pointed out some of the gruesome gems as we toured the museum during our most recent TextWorkshop.
It was great to welcome to the TextWorkshop colleagues from the Royal College itself, along with delegates from Imperial War Museum, the Science Museum, National Railway Museum, the Scout Association, the British Postal Archive, Stowe House, and a group from Gressenhall Farm and Workhouse. Here's some of the feedback, for which much thanks.
"Fun, accessible and with lots of great examples. I've learnt lots and feel much more confident to recognise and produce really engaging text."
"I've learned you can always make text better – keep revising it and challenging yourself."
"The best part was the clarity of the advice and the dos and don'ts. I feel I can really apply this back in the museum."
"It was really fun and brilliantly useful."
"As a result of being here I will not be afraid to change from the accepted curatorial style."
"It met and exceeded my expectations."
"A great step-by-step workshop with clear tips. I feel I can apply it to lots of different types of writing – it was empowering."
"As a result of today I will rethink the structure of my captions and how I approach telling my story."
"I have heard many good things about this workshop, it lived up to them."