Why not work with TextWorkshop in-house?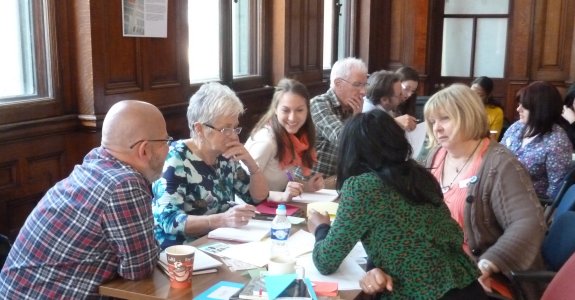 May was Manchester month for TextWorkshop. We worked with staff of Manchester Libraries, Information and Archives, and also with the team at Manchester Museum of Science and Industry (MOSI), giving in-house TextWorkshops about writing great panels and labels.
It's always exciting to be in historic Manchester – we had time to visit the institution that is Dimitri's Greek Taverna, as well as seeing the city full to bursting for Alex Ferguson's street-storming parade as outgoing Man U manager.
Feedback from delegates was really positive and we look forward to continuing our relationship with these groups and all those with whom we've worked in-house. Among the continuing services we offer are writing text strategies for museums, developing interpretation plans for individual galleries, and of course training staff in writing trails and working with social media. Comments from Manchester delegates included:
"Rebecca and Dea were funny and very good. They are to text what Trinnie and Susannah are to fashion!"
"Very useful. Terrific techniques. A good structure to work to. Feel more confident now."
"This workshop will help me create text in a completely different way."
"I will write labels differently now. I really feel like I can apply this and it has given me confidence to try."
"Thanks for one of the most interesting and useful training days I've been on in ages."
"Lots of fresh ideas, common sense and reinforcing – get message straight."
"I feel more confident, most useful workshop have been on – can use it straight away."
"Really loved it! Loved the powerpoint presentation, loved the pictures to keep, love the postcard idea!"
"Very useful information and tools to use in my day-to-day job."