Trail inspiration at the Museum of London Docklands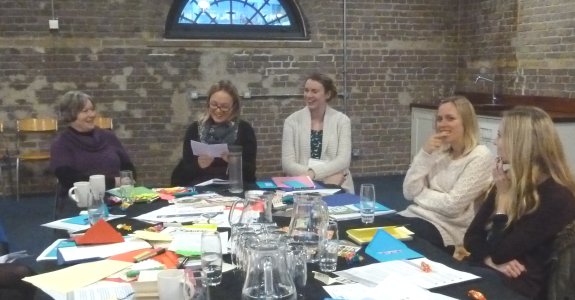 From a party invitation trail to a 999 Emergency trail, everyone on the most recent TextWorkshop went away ready to put an inspired idea into practice.
We were back in the lovely Quay Room at the Museum of London Docklands for this course, with delegates from the National Trust, Natural History Museum at Tring, English Heritage, Imperial War Museum, Barnsley Museums and many more. It's always great to have consultants and freelancers with us, and we're delighted to welcome students and trainees too.
Our focus in this workshop was on Trails, and as one delegate fed back: "I was worried that there may be some overlap with other TextWorkshops – but it was fantastic as it was completely different."
After exploring the seven secrets of great trails text, writing our own trails in the galleries and then trying them out, it was fun to think about how to turn it all into reality. A character-based trail using the personality of a Victorian naturalist was one idea, a picture-book trail was another, and a trail filled with activities to mirror gallery learning sessions was another delegate's idea to take away. Here's some of the feedback:
"I thought every session was very useful. I'll now have more conviction to follow through on the tone throughout a trail."
"Very clear and made the whole process of writing trails very coherent."
"More than met my expectations."
"There was a good mix of people here and it was a nice event to participate in."
"I'm now going to think of trails as wider resources – not just for families or special days."
"Coming from a curatorial background, this has helped to jazz up my writing knowledge and skills."
"The seven trail secrets were brilliant!"